Dallas Modern Patio Cover
This patio cover was created to look like it was originally part of the house and was built with clean lines and painted to match the trim of the main structure. The patio cover is attached to the house and includes ceiling fans, a wind wall, stainless steel wrapped posts and a covered area for outdoor dining, grilling and entertaining.
Keller Outdoor Living Area
This renovation was extensive and included a patio cover with several different wall types, a fireplace, new grill cabinet with Green Egg and a Kegerator, new decking, shutter/blinds, stairs, fencing and wrought iron. The transformation is dramatic. Please see our Before and After pictures.
Keller Outdoor Living Area - Interior
This view really shows off the interior of the patio cover. You can see the shutter/blinds that can be opened as blinds, opened completely to let in more air and sunlight or kept closed to block the hot, Texas sun. And check out the kegerator taps. You know there are some happy grillers in this back yard.
Southlake Outdoor Living and Grilling Area
This structure was part of a large property renovation that included a complete pool renovation with spa relocation, a new decking layout, outdoor kitchen and a patio cover. We also installed a ceiling fan over the dining area, spotlights over the grilling area, a powerful spotlight directed toward the pool and interior and exterior sconces.
Flower Mound Outdoor Living Environment
The homeowner's of this property wanted to expand their outdoor space so that they could grill and dine outside. We poured a new patio to include a circular area for a fire pit, built a large patio cover with an outdoor grill and created a couple of small landscape beds to soften all of the hardscape.
Fire Pit Area
Here is a view of the circular fire pit section of the patio. The homeowner elected to use a portable fire pit so that the area could be used for more than one function.
Allen Back Yard - Phase 2
This is the second phase of a project that we worked on the year before. In this phase we added this detached patio cover and wrought iron railing and gate.
Allen Back Yard Patio Cover
Here is a great view of the covered space and ceiling.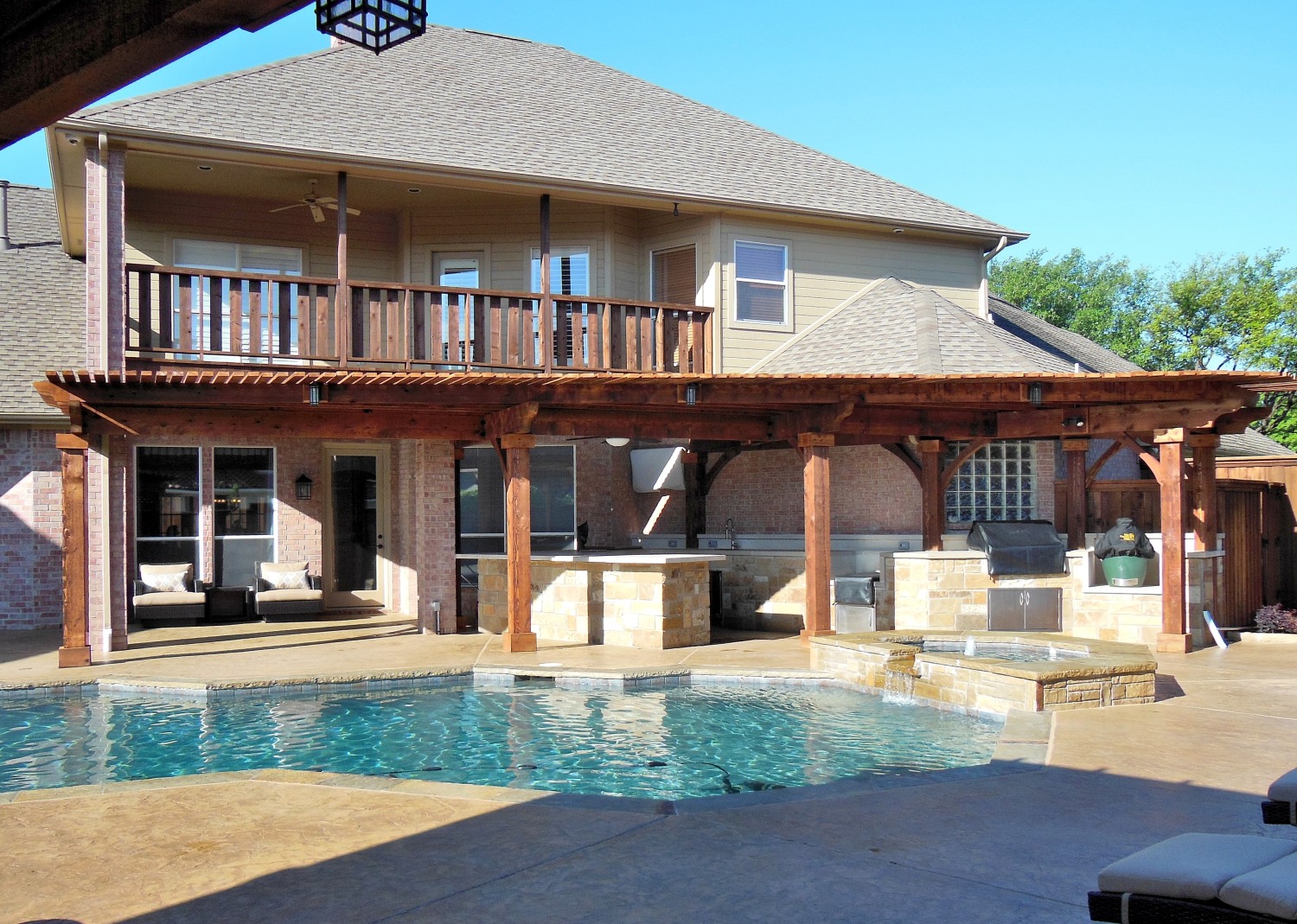 Plano Cooking and Entertaining Pergola
This pergola was constructed to cover a 47' long cooking and grilling area and to provide entertaining and dining space. The pergola is equipped with lighting on the exterior and the interior, a speaker system, television hook-up and spot lights for each section of the cooking area.
Plano Pool Side Pergola
This pergola was constructed across from the cooking and entertaining pergola on the same property. It is equipped with exterior and interior lighting, a speaker system, two ceiling fans, plugs and hook-ups for a television and a custom cabinet and bench set for additional storage.
Custom Cedar Storage Cabinets with Bench
This cedar bench and cabinet set was custom built for this pergola to provide additional storage for pool toys, towels and other miscellaneous items.
Frisco Outdoor Entertainment Area
For this client we built this large patio cover with a new patio area and stone grill cabinet.
Frisco Sliding Gate and Fence
Along with the new patio cover and outdoor entertainment area, we built a new fence with a solar powered gate. We were able to expand the driveway over the remaining yard area for a larger parking and play area.
Back Yard Retreat
For this client we replaced an existing wood deck and pergola. The original structure was at the end of its life span and could not be saved. We stayed with the wooden deck base and added a large covered structure with side railings, ceiling fan, lighting and additional outlets.
Back Yard Retreat - Side View
Here is a side view to better see the railings and wooden deck base.
Ponder Pergola
We designed and created this pergola to compliment the existing Flagstone patio and to give the homeowner much needed dining and entertaining space.
Patio Cover and Patio Expansion
This Flower Mound resident was looking for a larger patio and more shade so she could better enjoy her yard. We expanded the patio and added this pergola with a ceiling fan, interior light sconces and exterior spot lights on one side.
Argyle Grand Patio Cover
Argyle Grand Patio Cover with Tongue-n-Groove Cedar
Dallas Grill Cockpit with Cover and Bar
This step-down grilling cockpit was covered and contained within two new walls and the existing wrought iron fence. We installed lighting both on the inside and outside of the structure.
Dallas Grill Cockpit - Photo 2
Here you can see the tongue'n'groove ceiling along with the installed fan and lighting. Note the nautical style light fixtures.
Argyle Pergola
Dallas Patio Cover 28' x 25'
Dallas Patio Cover - Photo 1
Dallas Patio Cover Tongue n Groove with Lighting
Dallas Patio Cover - Photo 2
Southlake Patio Cover
Patio cover and fenced pool equipment area.
Flower Mound Outdoor Living Environment
Outdoor Living Environment - Photo 1
Painted Cedar Pergola
We created a small shaded area for the homeowner with this white, painted cedar pergola.
Grill and Bar
Outdoor Living Environment - Photo 2
Tongue and Groove Ceiling with Boxed Lighting
Outdoor Living Environment - Photo 3:
This is a view of the boxed lighting and tongue~n~groove finish.
Grand Patio Cover and Open Pergolas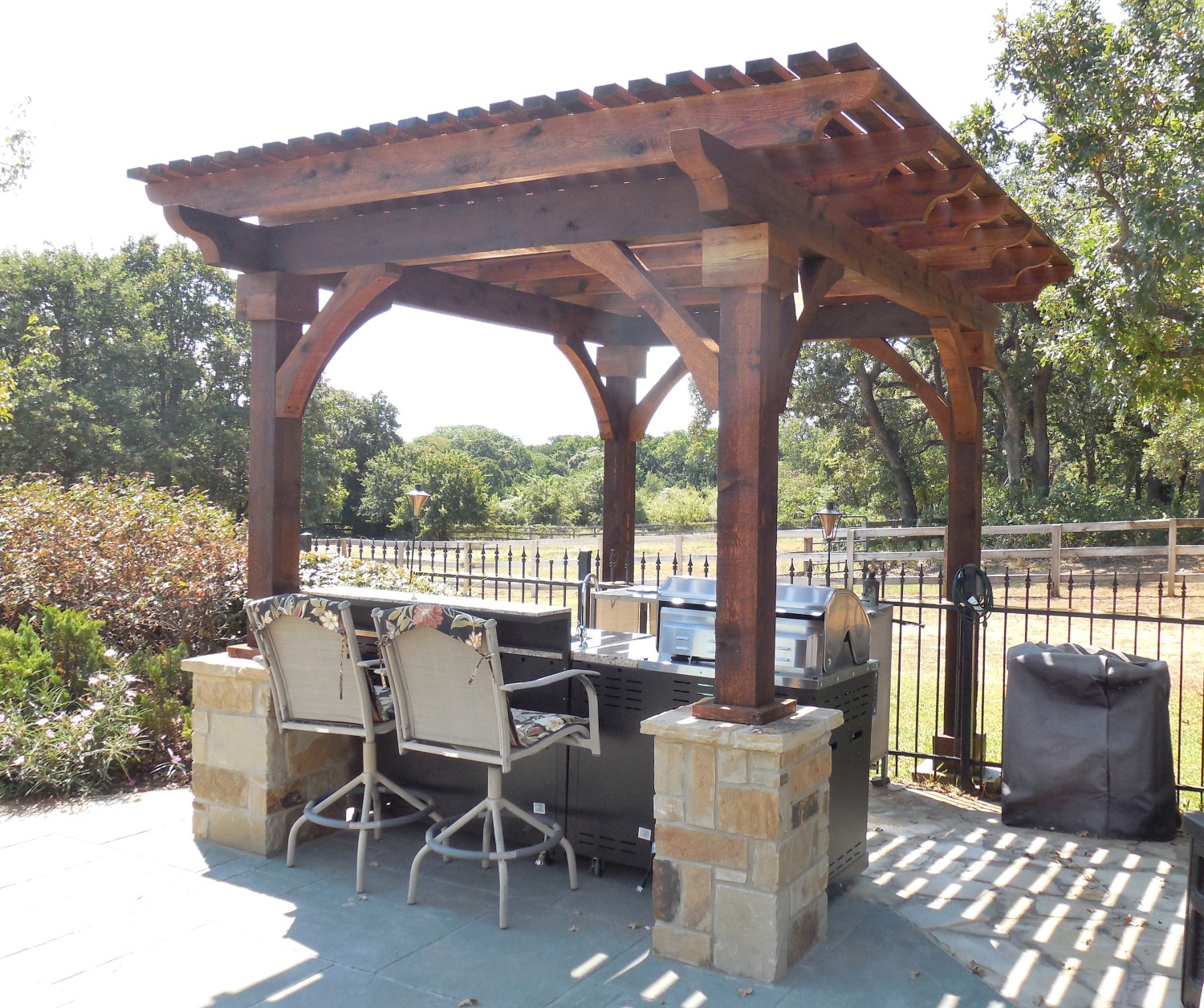 Grill Pergola in Argyle
Photo: 1
We constructed a grill pergola on a section of the existing decking for this client. We will be putting up a second pergola for them in Phase II of this project.
Grill Pergola in Argyle
Photo: 2
Here is the reverse angle. This family will be enjoying the shade while grilling out for the rest of the year.
Southlake Pergola
Side View - Uniquely Shaped Pergola
Keller Arbor
Back Yard Pergola
Custom Trellis
Grand Pergola
Flower Mound Outdoor Living
Photo 1: Patio Cover and Outdoor Kitchen
Flower Mound Outdoor Living
Photo 2: Outdoor Living Side View
Flower Mound Outdoor Living
Photo 3: Patio Cover Interior - Exposed rafters, lighting and ceiling fan.
Grapevine Back Yard Renovation
Photo 1: Patio cover, patterned concrete patio, grilling area, landscape and new fence.
Grapevine Back Yard Renovation
Photo 2: Patio cover interior, lighting and ceiling fan with patterned concrete.
Plano Patio Cover/Pergola
Plano Patio Renovation: New patio with drainage solution, central patio cover with side pergolas and outdoor grill.
Patio Covers - Pergolas - Other Construction
Custom Arbors, Custom Pergolas and Other Construction