Keller Outdoor Kitchen and Dining Area
This renovation was extensive and included a patio cover with several different wall types, a fireplace, new grill cabinet with Green Egg and a kegerator, refrigerator, new decking, shutter/blinds, stairs, fencing and wrought iron. The transformation is dramatic. Please see our Before and After pictures.
Keller Outdoor Living Area - Outside Wall
This photo shows the stone work on the outside of the walls and on the chimney. It also gives you a sneak peak at the shutters that were installed for privacy, wind break and ventilation.
Southlake Property Renovation - Grill
This picture shows the new grilling area with space for the Green Egg, the new grill and the burner. As with all of our kitchens, the counter height is customized to our client. The counter height for this project was calculated to accommodate the primary cook who is 6'-9".
Moss Boulder Bed Border
This area is our favorite part of this landscape renovation. The homeowner's love it too.
Outdoor Grill
Here is an example of a small outdoor grill with refrigerator and trash drawer.
Plano 47' Grill Cabinet and Cooking Area
Plano Grill and Entertainment Area - Photo 1
Here is a picture of the forty-seven foot long grill cabinet and cooking area that we constructed to hold the following: Green Egg, Large Grill, Burners, Sink with hot and cold running water (hooked up to the sewer), Ice Chest, Kegerator, Trash area and assorted cabinets and drawers for storage.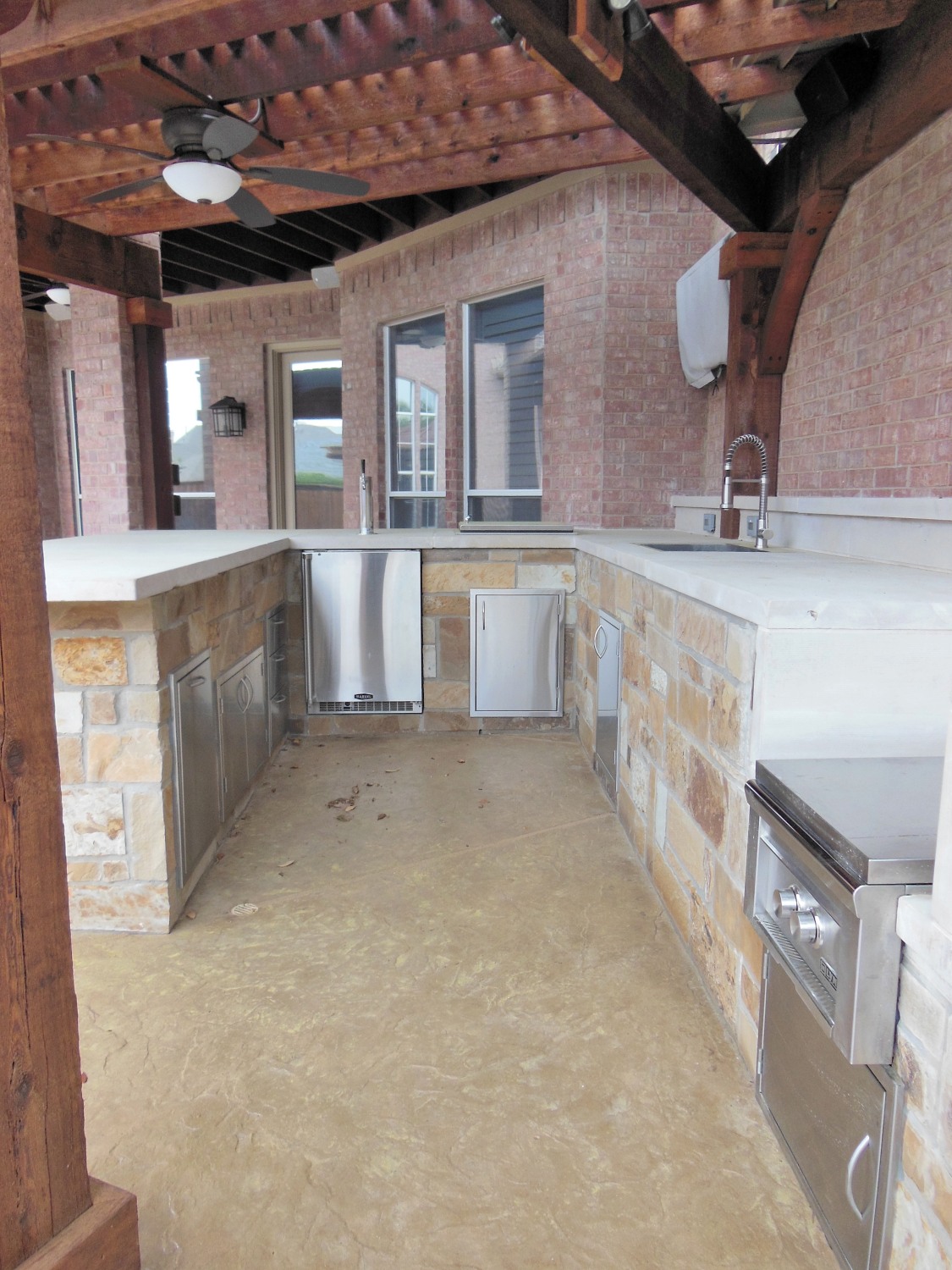 Plano 47' Grill and Cooking Area
Plano Grill and Cooking Area Photo -2
Here is a closer look at the stone cooking area.
Grill Cabinet
We added this stone grill cabinet between two existing pergolas per the homeowner's request. They wanted more prep space and wanted to be able to grill out in the sun but with the ability to move the grill to a covered area if the weather turned windy or wet. This is why the grill is not totally encased.
Perfect Placement
This view shows the placement of the grill area between the two structures and the landscape area that compliments it.
Storm Shelter with a View
During the construction phase, the client decided to install a storm shelter. They asked us to dress it up, integrate it into the landscape plan and give them an observation deck of sorts. We surrounded the shelter with landscaping, lighting, fabricated the wrought iron rails and then installed flagstone clad stairs.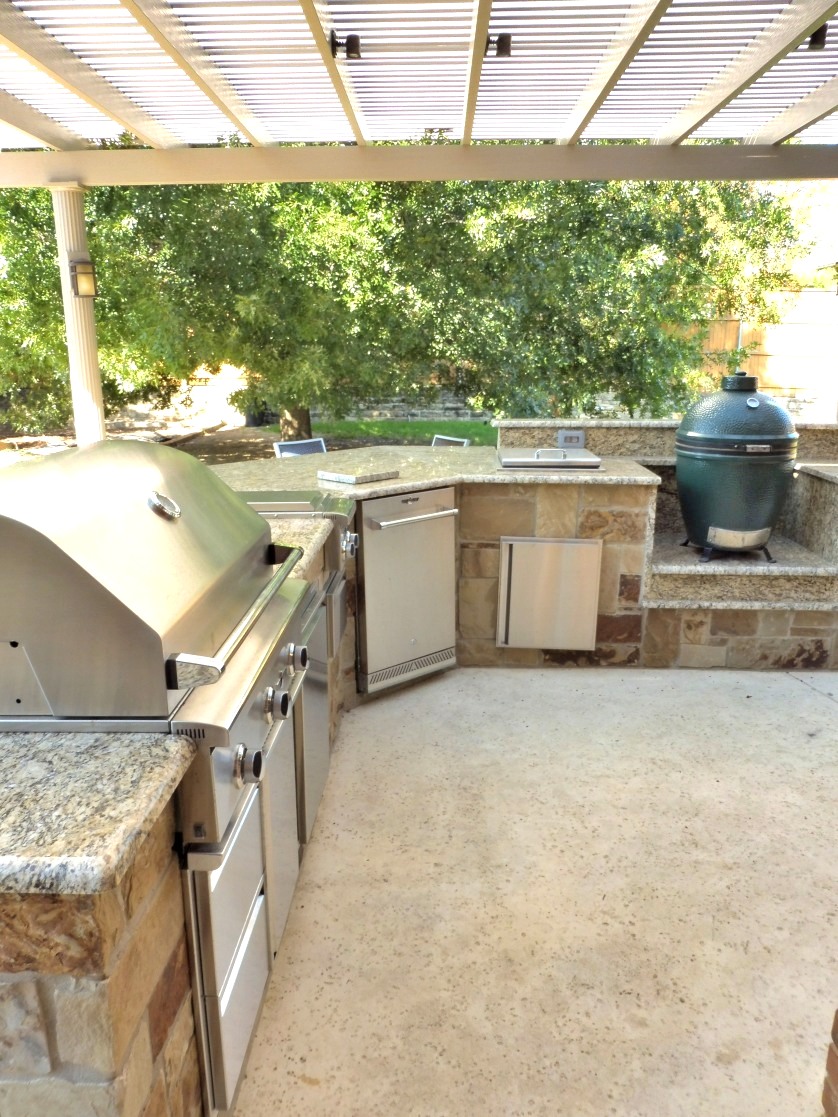 Outdoor Kitchen with Granite Counters and Accents
Photo 1: We added a new outdoor kitchen for this Coppell family to include a natural stone cabinet and granite counter tops.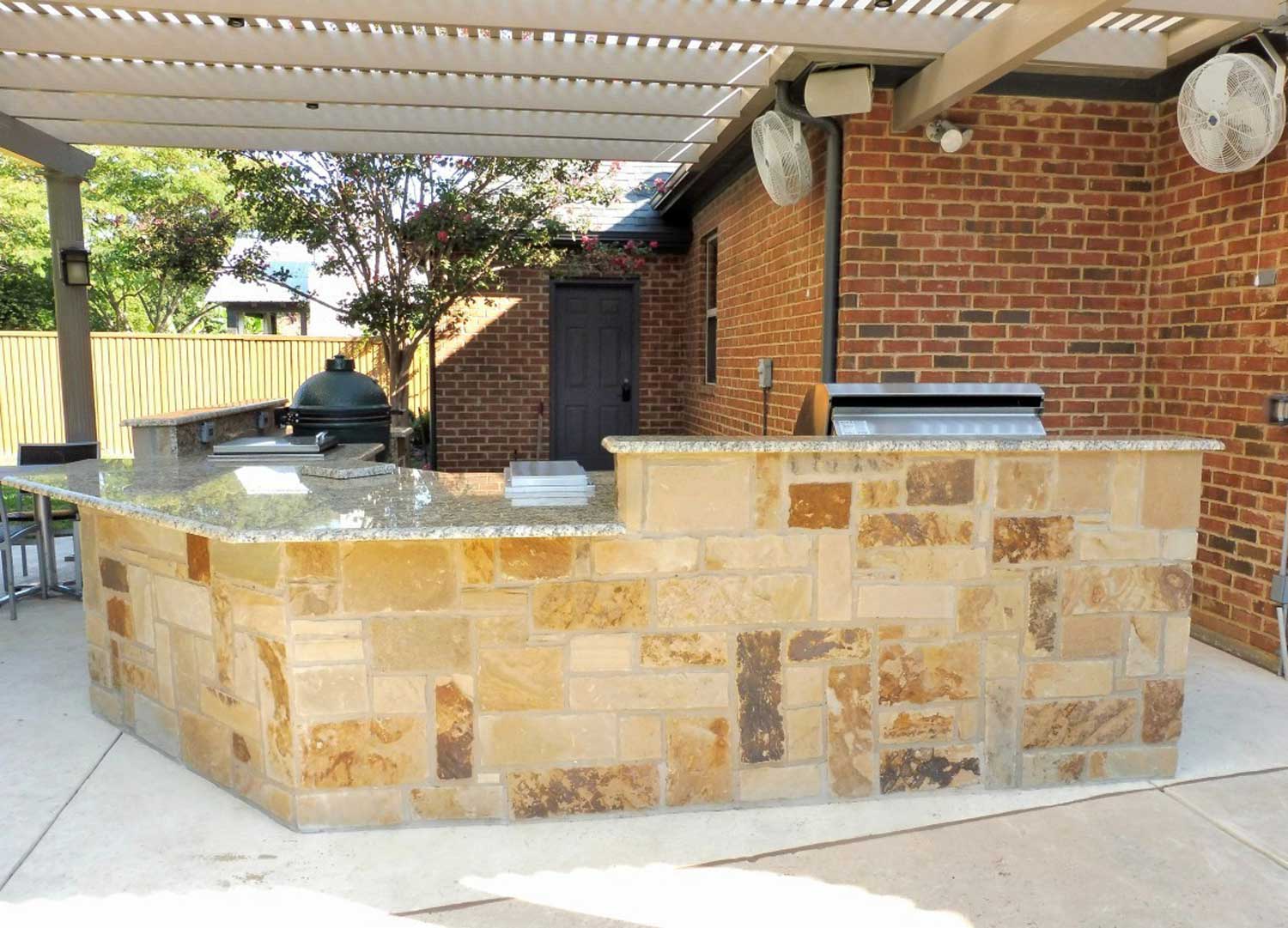 Outdoor Kitchen Addition
Photo 2: Here is a view of the kitchen from the bar side.
Outdoor Kitchen Addition
Photo 3: Here is a shot of the Green Egg installation. I love the double level of granite here.
Covered Back Yard Grill
Photo 1: On this project we were working with an existing slab and pergola. We put a stained overlay on the concrete and built the grill cabinet around the posts using an Oklahoma stone and the countertops and ledges are Leuders stone. Please check out our Before and After Page to see the entire transformation.
Covered Back Yard Grill
Photo 2: Here is another view of the Oklahoma stone grill cabinet. The owner's of the property say that it looks even bigger now that we added the grill cabinet.
Frisco Back Yard Transformation
On the large patio we began with the existing concrete slab and patio cover. We added a stained overlay to the slab, added brick pedestals to the patio cover posts and we created this curved seat wall. The wall was created using an Oklahoma stone and is equipped with lighting and topped with Leuders stone to match the grill area.
Step-Down Grill Cockpit
For this property we created a step-down grill and cooking cockpit complete with grill, burner section, refrigerator, trash drawer, lots of prep and serving space and much needed storage drawers. This cooking cockpit has a bar area on the outer side and faces the pool and deck so that the chef can still interact with kids and guests.
Step-Down Grill Cockpit - Photo 2
This is the view of the grill and burner side of the cooking area.
Argyle Grill Cabinet
Argyle Grill Cabinet - Photo 1: I think this may be the biggest grill we have built to date. We installed a large grill, burners, a refrigerator and a trash drawer. There is tons of prep space and an expansive bar ledge for guests.
Argyle Grill Cabinet 2
Argyle Grill Cabinet - Photo 2: This view shows you the backside of the grill area with the bar ledge and guest seating.
Argyle Property Stone Walkway
This stone walkway was created to lead away from the hardscape and the end of the patio into the grassy landscaped area.
Argyle Back Yard Project
This view shows the new flagstone steps and flagstone border along the edge of the new deck area.
Dallas Outdoor Grill Area
On top of the newly poured driveway and decking area we built this custom stone grill and green egg cabinet with sawn-leuter stone counter tops.
Grill Patio
Flower Mound Grill Area
As part of a large renovation, this grill area was added to the backyard.
Stone Retaining Walls and Landscape
Outdoor Grill and Bar Area
Grill Area with Bar Ledge for Entertaining
Grill Cabinet with Window
Light Stone Grill and Patio
Stone Retaining Walls, Landscape and Drainage
Planter Box
Stone Overlay Patio
Stone Patio and Pergola
Stone Fire Pit
Moss Stone Fire Pit
Stone Overlay Patio
Stone Overlay Mailbox
Flower Mound Grill and Patio Area
Flower Mound Outdoor Kitchen
Outdoor Grill with Green (Red) Egg space.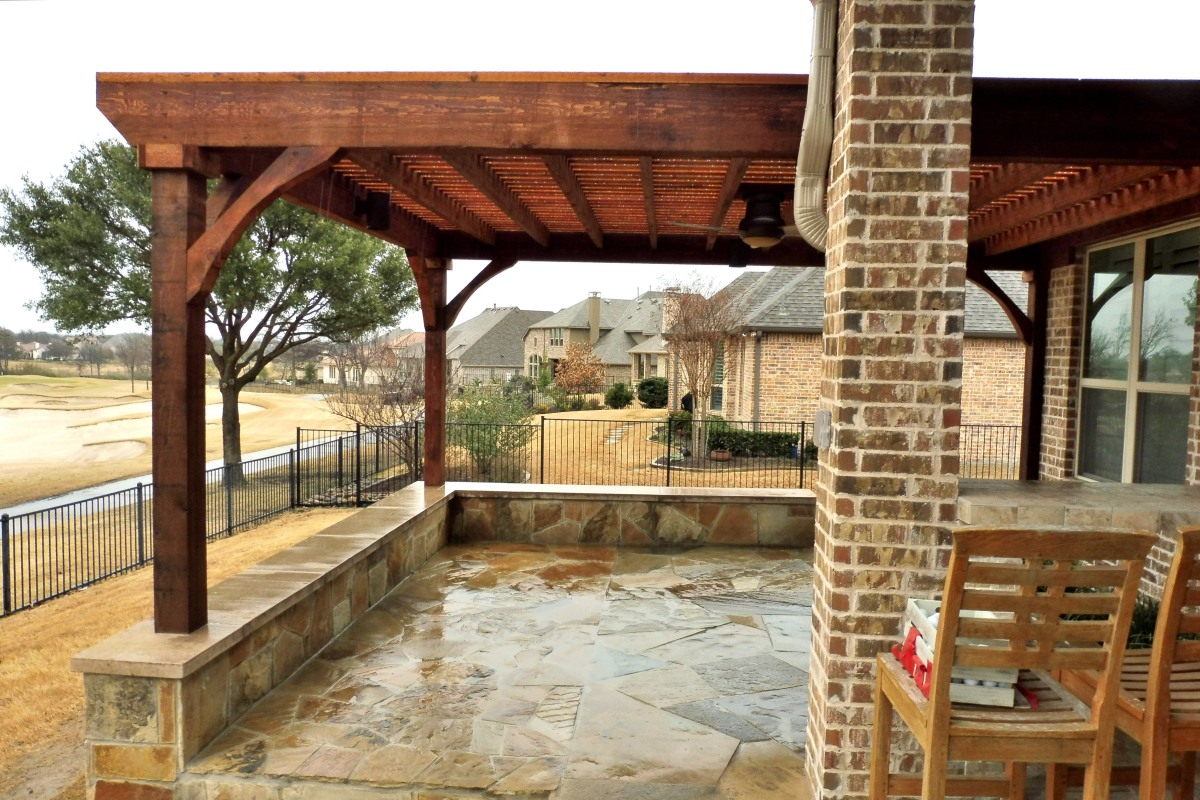 Prosper Patio and Pergola
Photo 1: Concrete patio with flagstone overlay, seating wall and rustic pergola.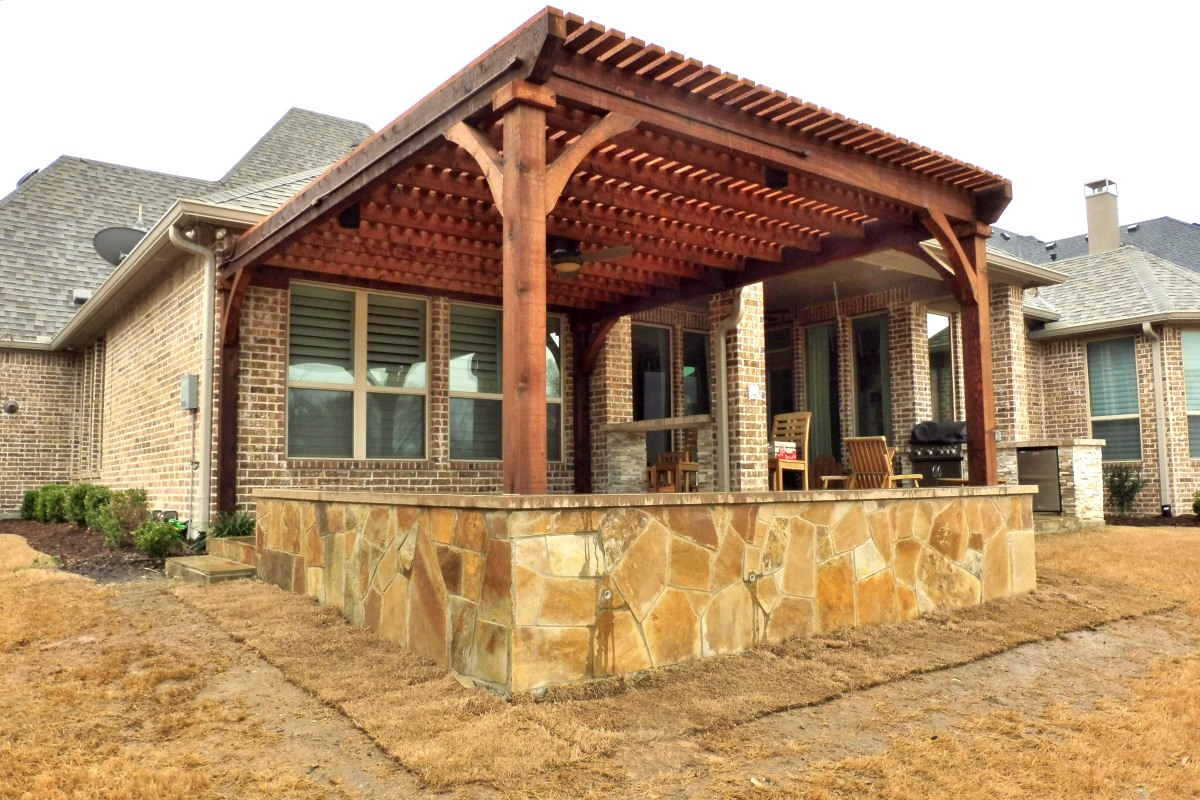 Prosper Patio and Pergola
Photo 2: Flagstone overlay patio, seating wall and rustic, cedar patio.
Dallas Outdoor Grill Addition
Grapevine Back Yard Make Over
Plano Patio Cover/Pergola
Plano Patio cover with side pergolas and outdoor kitchen
Outdoor Grills / Fire Pits / Stone Work